> COVID-19 Credit Guarantee Scheme Information
Extended to 30th June 2022
At Dundalk Credit Union we have always recognised the pivotal role local businesses play in our community. Many of those same businesses (micro and SMEs) have experienced difficulties and challenges during the COVID 19 Pandemic. We are proud to announce that our commitment to local businesses has been strengthened further with the recent announcement that we are now approved as a lender in the COVID-19 Credit Guarantee Scheme, allowing us to to help local businesses, including primary producers, impacted by Covid-19 and access to credit.
The Covid-19 Credit Guarantee Scheme is available through Dundalk Credit Union to assist in the recovery of your business by providing low-cost loans. This Scheme is being administered by the Strategic Banking Corporation of Ireland (SBCI) further details can be found on their website.  If your business needs support with working capital or term loans, why not contact Dundalk Credit Union to find out more?
Features of the COVID-19 Credit Guarantee Scheme
Loan Amount Criteria
The amount of credit that can be obtained by a borrower under the Scheme (whether under one or more finance agreements) is subject to the Scheme rules and the Temporary Framework.
You will need to provide certain documents to Dundalk Credit Union as part of this application process to determine and evidence the maximum credit amount which you are entitled to apply for. These requirements vary, but are likely to include: – Management/Audited accounts/Business Plan.  Our loan officer will advise you.
The maximum amount of the credit that is permitted to be advanced to a borrower under the Scheme cannot exceed €400,000, and will be determined by one of the following three criteria:
Double the borrower's annual wage bill for 2019, or for the last year available. In the case of a borrower created on or after 1 January 2019, the maximum loan must not exceed the estimated annual wage bill for the first two years in operation
25% of the borrower's total turnover in 2019
In limited cases, and with appropriate justification, the amount of the loan may be increased to cover the liquidity needs of the borrower from the moment of granting for the coming 18 months for SMEs
Who Can Apply?
Viable micro, small and medium-sized enterprises (SMEs) and primary producers that meet the eligibility criteria and have or expect to have a reduction of minimum 15% in their turnover or profitability as a result of Covid-19.
SMEs are defined by the Standard EU definition [Commission Regulation 2003/361/EC] as enterprises that:
Have fewer than 250 employees
Have a turnover of €50 million or less (or €43 million or less on their balance sheet)
Are independent and autonomous i.e., not part of a wider group of enterprises
Have less than 25% of their capital held by public bodies
Are established and operating in the Republic of Ireland
Who Cannot Apply?
Businesses that cannot apply for this scheme include those that:
Were already in financial difficulty prior at 31/12/2019*
Are bankrupt or being wound up or having its affairs administered by court
In the last five years have entered into an arrangement with creditors, in the context of being bankrupt or wound-up or having its affairs administered by the courts
Are convicted of an offence concerning professional misconduct by judgement, fraud, corruption, involvement in a criminal organisation, money laundering or any other illegal activity where such illegal activity is detrimental to the European Union's financial interests
*The guarantee may not be granted to undertakings that were already in difficulty (within the meaning of the General Block Exemption Regulation) on 31 December 2019: In derogation to the foregoing, aid can be granted to micro or small enterprises (within the meaning of Annex I of the General Block Exemption Regulation) that were already in difficulty on 31 December 2019 provided that they are not subject to collective insolvency procedure under national law, and that they have not received rescue aid or restructuring aid.
Scheme Costs
The interest rate applicable to loans up to and including €25,000 is 5.75% and for loans greater than €25,000 is 4.75%.
A Guarantee for 80% of the Loan is provided from the Department of Enterprise, Trade and Employment.  A Premium is to be paid to the Department by all participants in this scheme, which is collected by Dundalk Credit Union on behalf of the Department. This Premium is in addition to your loan repayments. The premium rate that will apply will depend on the size of the business and the length of time for which the credit is being advanced.  Rates applicable are: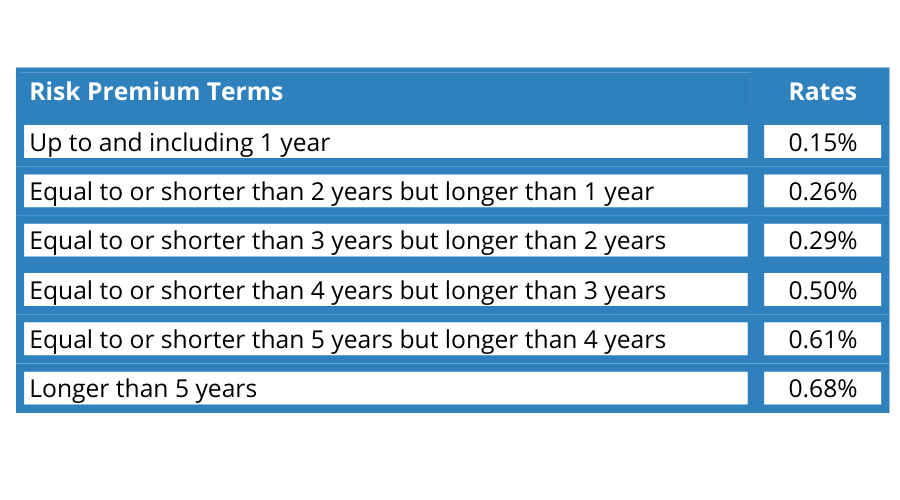 Excluded Activities
Refinance of debt incurred pre the Covid-19 pandemic
Finance of pure real estate development activity
Hemp production other than for fibre is an ineligible activity
Credit Decisions & Appeals
Dundalk Credit Union will make a credit decision to approve or decline your Covid-19 CGS credit application based on our agreed local credit policies and scheme conditions. If declined, you have the option to avail of our internal appeals mechanism.
State Aid
The Covid-19 Credit Guarantee Scheme has been notified to the European Commission on the basis that the credit to be provided falls within the parameters set down in the Temporary State Aid Framework.