> Building Global Bridges
Building Global Bridges
Building Global Bridges in Support of PVKS Credit Union Ukraine
The Worldwide Foundation of Credit Unions Global Bridges Programme was hosted by Dundalk Credit Union last week, welcoming colleagues from PVKS Credit Union, Ukraine and Mike Reuter, Executive Director, and Alisa Stetsyshyn of the Worldwide Foundation for Credit Unions.
Throughout the week, we had knowledge sharing from staff at Dundalk Credit Union with our Ukrainian Credit Union Colleagues. We learned more about the impact of war in Ukraine both on the Ukrainian people themselves but also on the member Credit Union community across Ukraine, and celebrated Women in Leadership.
A week of support, new friendships and the knowledge that our common bond is the power of Credit Unions and that together, we can make a positive difference worldwide.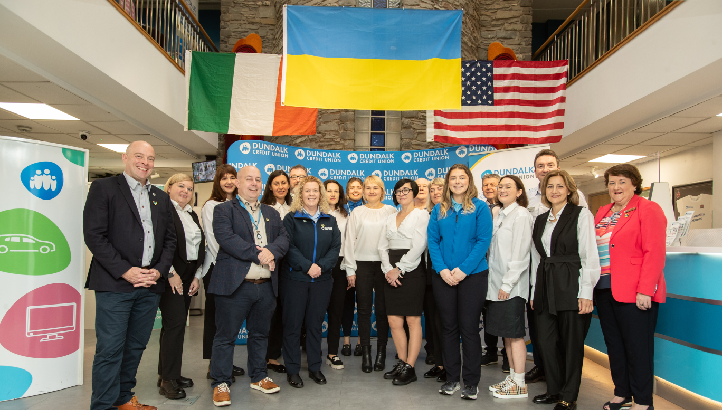 A Shared Global Community
The visit, in plan for over a year, is as a direct result of Dundalk Credit Union's dedicated support and commitment to the members and staff of PVKS Credit Union since the start of the war in Ukraine. Through the Global Bridges programme directed by the Worldwide Foundation of Credit Unions, a connection was made and when war impacted electricity supply, the community at Dundalk Credit Union stepped in to supply generators to PVKS Credit Union, allowing branches to remain open and accessible to their members.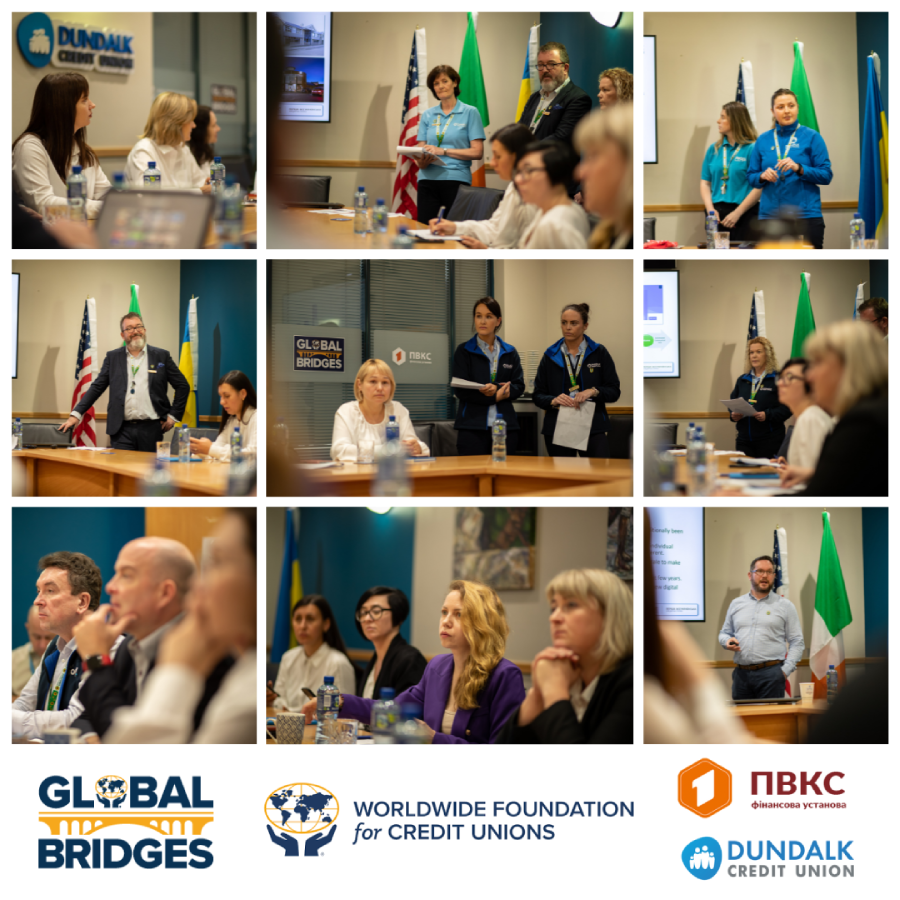 Learning Together
Over three days, staff in Dundalk Credit Union shared learnings, knowledge, and experiences in key areas of credit union service delivery.  Colleagues from Ukraine learned from their Co. Louth counterparts about their operational processes, member excellence programme, digital transformation tools and community engagement.  Louth Local Development showed their community commitment lending support with translators across all events.
Mike Reuter, Executive Director, Worldwide Foundation of Credit Unions, and the Global Bridges Programme delivered an engaging talk to Dundalk Credit Union staff, neighbouring Credit Unions, and to representatives from both CUDA and the Irish League of Credit Unions, that highlighted the profound impact achieved when credit unions come together to support one another worldwide.  This shows the incredible strength and unity in the credit union community, making a positive difference on a global scale.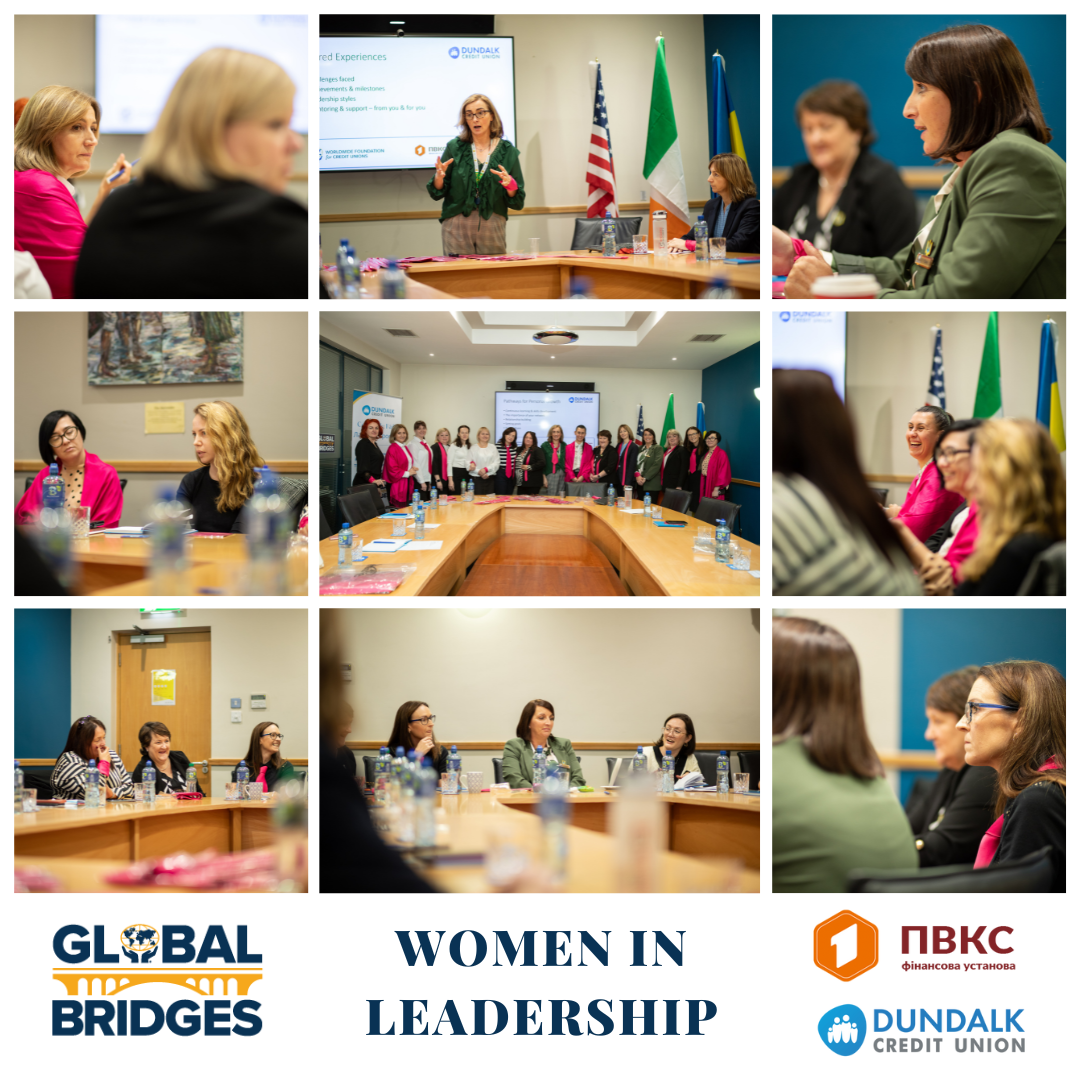 Women Leading the Way
A significant highlight of this event was the "Women in Leadership" session, where our combined strength shone through.  The leadership displayed by women from different corners of the globe deepened our connection, emphasising the long-term values that drive us forward and help us make a positive impact, all the founding principles that guide the credit union community.
Showcasing Our Vibrant Community
A real highlight of the week was a civic reception that showcased the very essence of our vibrant community spirit.  Guests from across public, private and community came together with Dundalk Credit Union Board, management, and staff to offer a very big Wee County Céad Míle Fáilte to our Ukrainian and US colleagues.
Our visitors had the chance to experience the warmth and charm of Dundalk through the Seek Mural Tour, local shopping, and a visit to Carlingford.  We displayed what it truly means to be part of the Credit Union Community.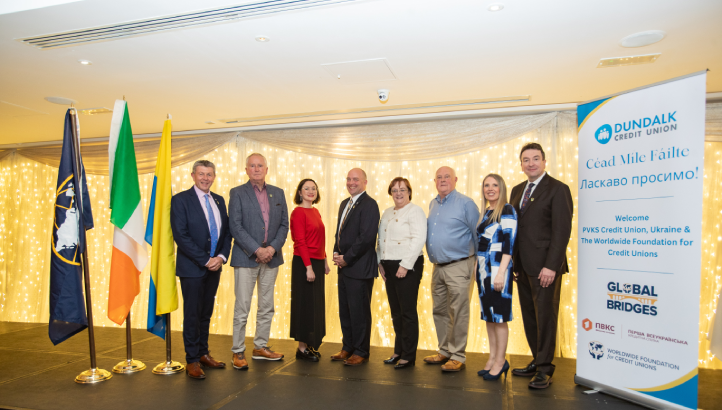 A Global Perspective
In a world where some financial institutions strive to be distant and impersonal, this credit union story reaffirms the values of support, welcome and inclusion that remains our shared global community.