> Community Defibrillators
Community Defibrillators
Dundalk Credit Union Sponsors Adult & Paediatric Defibrillators
In association with Dundalk Lions Club, Dundalk Credit Union is delighted to sponsor three new Adult & Paediatric Defibrillators in Dundalk.  The Defibrillators will be located on the Avenue Road at the Maxol Garage, at Applegreen on the Carrick Road and at Brodigan's Londis on the Point Road.
Pat Byrne, President, Dundalk Lions Club said "with the generous sponsorship from Dundalk Credit Union, all three defibrillators will now service a wider area within our community; offering a rapid response to both adult and child cardiac emergencies."
Stephen Fealy, CFO, Dundalk Credit Union said "the team at Dundalk Credit Union is extremely proud to fund this potentially lifesaving initiative for our community.  In addition, defibrillator training will also be provided to a number of volunteers across our community, including some of our secondary school students, to ensure that when needed, a trained responder is available.  We are delighted to partner with the volunteers at Dundalk Lions Club."
Dundalk Credit Union and Dundalk Lions Club would also like to thank the business owners who have very kindly offered their premises as Defibrillator locations. Together, let's build a better tomorrow.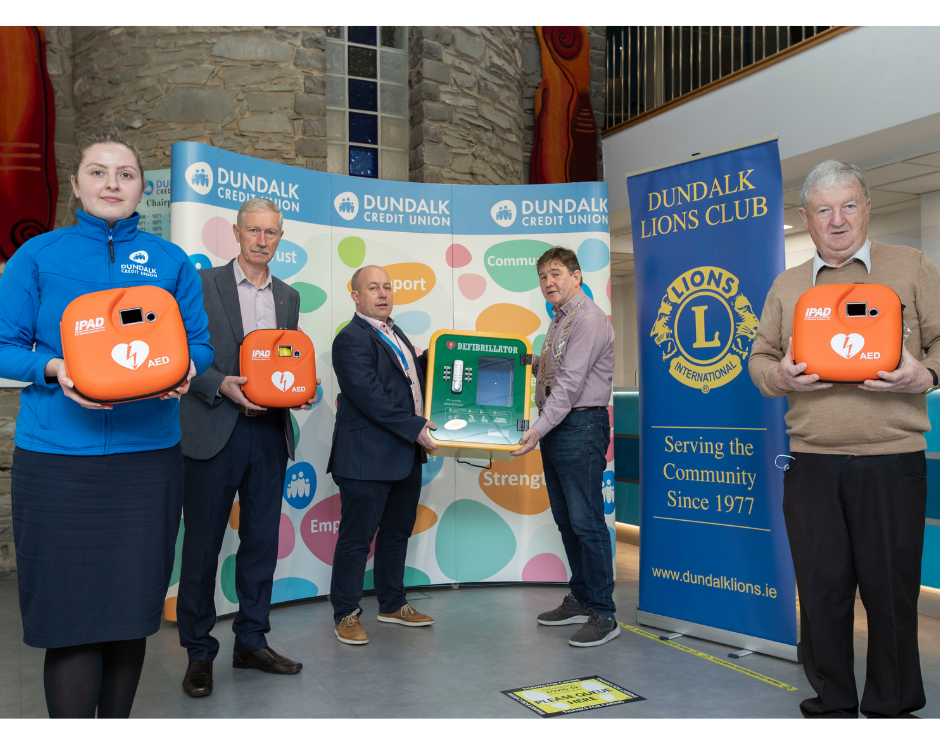 L to R – Megan Hughes, Pat McGee, Stephen Fealy, Pat Byrne & Tadhg O'Sullivan