Dundalk Credit Union Proudly Supports Frostival 2023
Experience the magic of Christmas at Dundalk Credit Union 'Frostival Winter Festival' on Friday 17th and Saturday 18th of November, marking the start of the festive season. This highly anticipated annual festival has a jam-packed schedule of events, with something for all the family to enjoy.
This year's Carnival of Light parade promises to be a wonderful family affair, an awe-inspiring winter fairy tale come to life. Also taking place will be the annual Christmas Tree lighting ceremony and street illuminations. The Christmas Artisan Fair and Family Fun Zone will be back at Market Square both days, adding to the festive cheer.
"Come and celebrate the start of the festive season with family and friends, from far and wide, by inviting them to join us in Dundalk for County Louth's biggest Christmas celebration!  We are really excited about the festive programme of events and in addition to the parade, which will take place at 7pm on Friday evening – this year we have teamed up with An Táin Arts Centre and are thrilled to announce that, for the first time, a unique live performance will also take place at Market Square at 6pm on Saturday."
Martin McElligott, Town Centre Commercial Manager.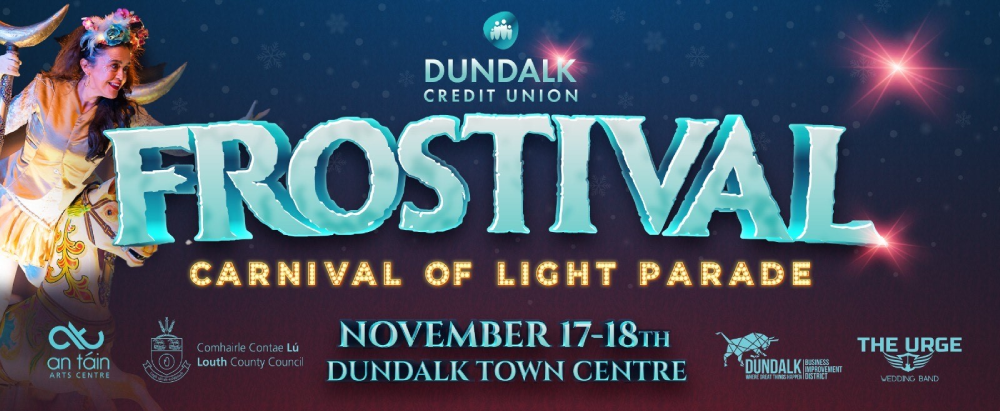 "We would like to express our sincere thanks and appreciation to our main sponsor Dundalk Credit Union, and our civic sponsor Louth County Council for their kind support and sponsorship of this year's events. It would not be possible to organise and execute a festival of this magnitude without their generosity and commitment, and also the support of our associate sponsors An Táin Arts Centre, The Urge, Stage & Lighting"
Martin McElligott, Town Centre Commercial Manager.
"Dundalk Credit Union has always been at the forefront of supporting our community. We are thrilled to be once again sponsoring Frostival, an event that spreads the spirit of the season throughout our town and helps local businesses flourish during the holiday season. The excitement and warmth it brought to families and businesses last year were truly heartwarming, this year's festival promises to be even bigger and better, showcasing the very best of Co Louth and our community spirit."
Billy Doyle, CEO of Dundalk Credit Union.
"Louth County Council are delighted to support the Frostival Winter Festival, which is now one of the highlights of the festive season in County Louth. With a remarkable line up of events planned to launch Christmas celebrations including the show-stopping 'Carnival of Light' in Dundalk town centre, the 2023 programme of events will once again put Louth on the map as a premier destination to visit with the whole family."
Joan Martin, Chief Executive of Louth County Council
 "We are thrilled to collaborate with our partners in Dundalk BIDs on this year's Frostival Celebrations. As part of An Táin Arts Centre's Off-Site programme we are delighted to present 'FIRESTORM' by Rogu. Audiences will be mesmerised at this unique performance that will have them enthralled and hypnotised. This is a fire show like none other and it's free. A perfect evening for all the family to enjoy."
Paul Hayes, Director of An Táin Arts Centre
Keep an eye on the Frostival Dundalk Facebook Page for updates www.facebook.com/FrostivalDundalk