Dundalk Credit Union & DkIT Announce Corporate Partnership
Building upon a long-standing track record of successful collaboration, Dundalk Credit Union and DkIT are delighted to announce an exclusive corporate partnership that underpins the importance of their respective roles in the North-East, their heritage of cooperation, and their combined ambition to help create a more sustainable and thriving community for all people in the North East.
Drawing on their shared purpose as drivers of economic and community development, DkIT and Dundalk Credit Union have agreed on a scalable framework to explore and develop several transformative initiatives that will promote regional growth, sustainable development, and positive environmental change through the power of cooperation.
In addition, the collaboration will see initiatives in Age Friendly financial education, financial literacy, financial well-being, academic scholarships, business-to-business financial product marketing, social access to and inclusion in education, and student body academic prizes.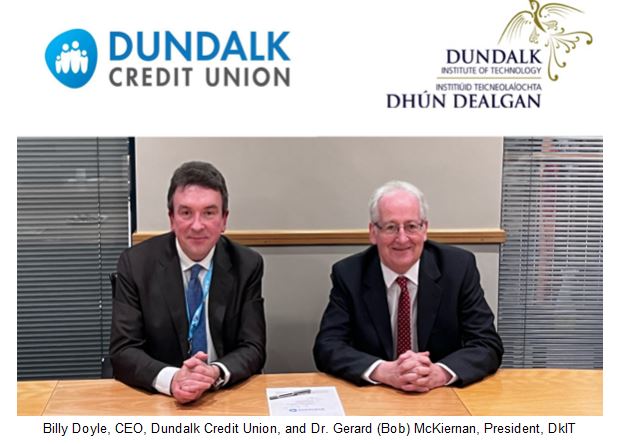 Speaking at the signing of the Corporate Partnership Memorandum of Understanding (MOU), DkIT President, Dr. Gerard (Bob) McKiernan said: "We are delighted to strengthen our relationship with Dundalk Credit Union through this MOU. A key strategic initiative of DkIT is to continue to build on our track record through the development of the DkIT Corporate Partnership Programme. This programme offers an organised framework for DkIT and high-profile organisations across industry and the community to develop sustainable and mutually beneficial relationships within the region. We believe this MOU will facilitate the capacity to evolve and grow in a planned manner while sharing our mutual ethos of community and economic development with a potential focus on corporate sponsorship of innovation projects and specific research projects in financial literacy"
Billy Doyle, CEO, Dundalk Credit Union added  "Dundalk Credit Union is very excited to announce this exclusive credit union collaboration with DkIT. We were delighted to deepen our long-standing relationship with DkIT, particularly when the potential outcomes envisaged in this partnership bring such broad and tangible benefits to our shared communities in Dundalk and the wider Northeast. We believe this collaboration, the first of its kind in Ireland between a credit union and a third-level institution, is an example of what can be achieved by bringing purpose-led organisations together via a re-imagined co-operative platform to co-create solutions that deliver real value for the entire community and the broader region.