Dundalk Credit Union Welcomes World Council of Credit Unions Delegation
Global Bridges Connects Dundalk to Indiana, USA
As part of Dundalk Credit Union's ongoing participation in the Worldwide Foundation for Credit Unions' Global Bridges Programme, the Co Louth Credit Union was chosen to host a delegation of Credit Union peers from the USA in their offices on Market Street in July with virtual attendees also joining in the debate and discussions from locations across the USA.
The Global Bridges Programme is an International Credit Union knowledge exchange/peer network forum aiming to advance Credit Union growth and development and encourage increased partnering and collaboration between Credit Unions across the globe.
Opening the event Billy Doyle, Dundalk Credit Union CEO welcomed special guests, Mike Reuter, Executive Director of the Worldwide Foundation for Credit Unions, Madison, Wisconsin, and Kevin Ryan, from Financial Center Credit Union, Indianapolis, Indiana, to Dundalk and to the Credit Union. He also welcomed Cam Minges, President and CEO of Financial Center Credit Union who joined the discussions virtually from Indiana, USA.
Billy Doyle said that Dundalk Credit Union was honoured to facilitate one of the Worldwide Foundations' flagship programmes at Dundalk Credit Union and to share our respective learnings and experiences in person and virtually on areas such as Credit Union Purpose, Financial Well-being, Circular Local Economic Development, Youth Engagement and the role of Credit Unions in helping build sustainable communities.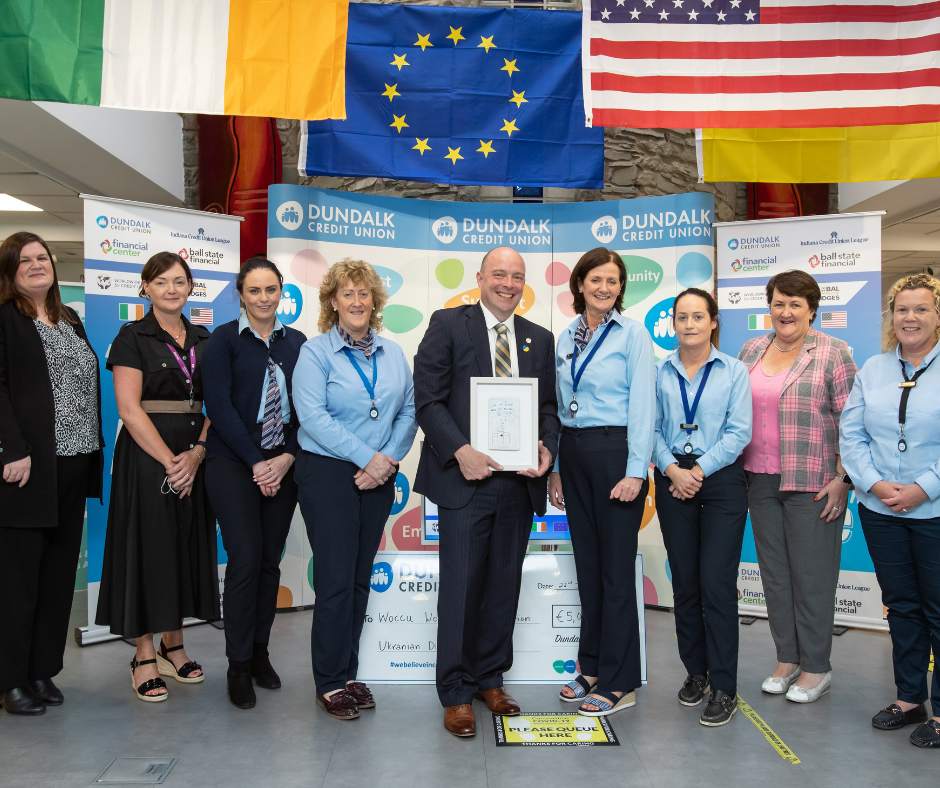 Inspiring Work of Worldwide Foundation for Credit Unions
The discussions were then followed by a reception hosted by Billy Doyle and the Board of Directors to mark the visit of the International Credit Union delegation to Dundalk Credit Union.
At the reception, the Worldwide Foundation's Executive Director, Mike Reuter, outlined the development work being undertaken by the Foundation across international credit union sectors and communities. He also updated on the exciting growth and development of two of the Foundation's pillar programmes; their Global Women's Leadership Network and Young Credit Union Professionals Scholarship Programme. He also spoke about the incredibly important work being undertaken by the Worldwide Foundation in supporting Credit Unions in Ukraine since the invasion by Russia earlier this year. Mike Reuter then concluded by paying tribute to Dundalk Credit Union for their ongoing commitment to and engagement with the World Council / Worldwide Foundation for Credit Unions.
Kevin Ryan, Financial Center Credit Union, Indianapolis, delivered an inspiring address outlining the transformative impact of the work of Credit Union on the lives of people, families, communities, and indeed the World itself.

Special Donation to Support Ukrainian Credit Unions.
The reception was closed with the Board and staff of Dundalk Credit Union making a special donation to the Worldwide Foundation for Credit Unions' Ukrainian Displacement Fund. Two handcrafted framed ceramic tiles by local artist Sarah McKenna were presented to both Mike Reuter and Kevin Ryan as mementos of their visit to Co Louth.